Pre-development begins for HALL Park's next construction phase in Frisco
Featured in Frisco Enterprise:
By Audrey Henvey | Star Local Media
It's impossible to pass through Frisco on the Dallas North Tollway without seeing the cranes reaching for the sky. 
The towering structures are visual reminders of the work that has been underway at HALL Park in Frisco, which has totaled over 141,515 hours of construction (as of July 20), according to a Facebook post by the park. 
Back in October, developer HALL Group announced a new master plan that is expected to take up 9.5 million square feet and involve an expected 20 years of future development that will result in an estimated $7 billion in value. As HALL Park continues work on the first phase of the plan, pre-development and the initial design work for the next phase of construction has begun, Brian Martinelli, vice president of development at HALL Group, said in a statement to the Frisco Enterprise. 
More specific plans for the next phase are expected to be released in the near future, Martinelli said. 
The move comes as HALL Park continues work on the $500 million first phase, which includes adding a new Class AAA office tower, a 193-key boutique hotel, 19-story luxury residential tower, 30 furnished luxury executive suites, a 10,000-square-foot food hall and a programmed community park. The phase is expected to expand over about 1 million square feet and is slated to open in late fall 2023. 
"Construction on the first phase of development at HALL Park is progressing nicely," Martinelli stated.
Martinelli said the vision for the redevelopment is to provide a "fully mixed-use entertainment district that will flow from HALL Park to The Star, its neighbor to the north."  
"When we came to the conclusion that office parks would decline over time, we started thinking outside the box for what would have a more enduring impact on the future of Frisco and the HALL Park development," Martinelli stated. "Our masterplan will set a new standard for quality, walkable mixed-use developments and placemaking. The development will connect individuals with nature, attract corporate relocations, continue bringing a strong arts presence to the city and keep Frisco on the cutting edge of new construction trends."
Martinelli said office pre-leasing is underway with the completion of a new sales center.
"Hard hat tours will take place soon and residential leasing will ramp up closer to a year-out from completion," he stated.
Plans for the food hall include welcoming eight to 10 vendors who will provide a wide variety of food and drink. In addition, the space will include a bar.
"Positioned on the park, the food hall will be highly programmed with events and themed evenings for all ages to enjoy," Martinelli said.
The park, whose 5.7 acres makes it larger than Klyde Warren Park in Dallas, is scheduled to be complete in conjunction with the first phase of development, he said.
"The programmed community park is designed to be an urban greenspace that provides connectivity within HALL Park to other neighborhoods in Frisco, bringing cultural events and experiences to the community while serving as a gathering place for both residents and visitors to enjoy," Martinelli said. "Our vision is to create a place where everyone can find something to enjoy and experience, bringing to Frisco a true mixed-use community gathering place."
That includes providing a public art element. Martinelli said the programmed community park will feature a permanent and rotating art collection as well as a statement sculptural work named "Butterfly Rest Stop" by Janet Echelman, a world-renowned American sculptor and fiber artist.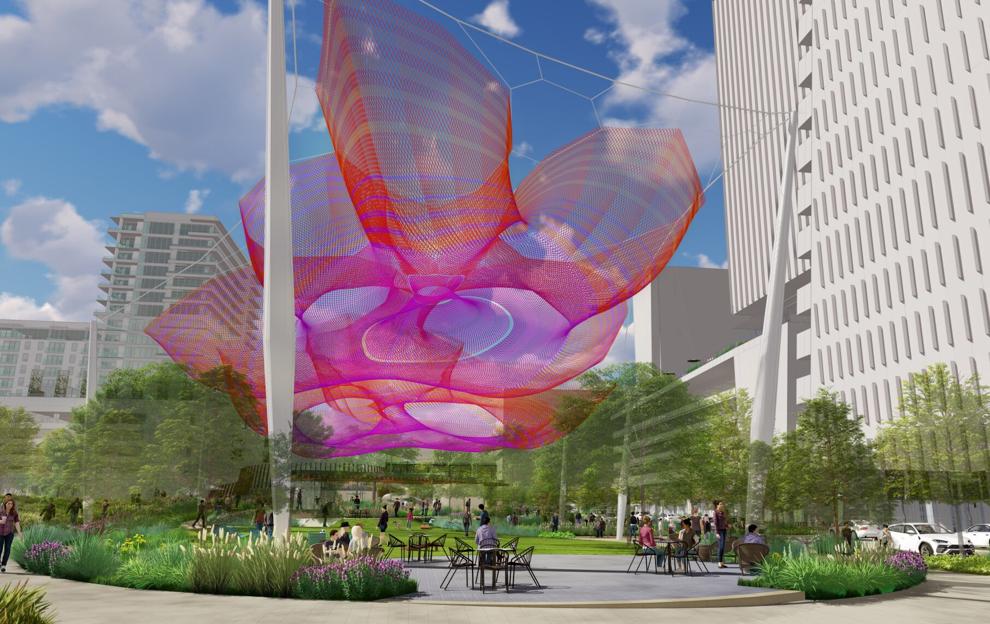 The boutique hotel is also expected to bring its own globally sourced artwork, Martinelli said.
"We believe art will draw residents and visitors to the park – as it currently does with the Texas Sculpture Garden – and we are glad to continue our commitment of exposing people to impactful artworks during their everyday lives," he said.
Read the full article here. 
Recent News
Toshiba innovation hub to create up to 150 jobs in Frisco
Learn More
Focus on Frisco: MEET THE MAN BEHIND THE VISION FOR THE NEW CITY OF FRISO PARK!
Learn More